Scientific Innovation in 10 Objects
Tuesday, November 14, 2023-Tuesday, December 12, 2023 | 6pm-7pm EST
Purchase Course
The Science History Institute has teamed up with online learning platform Roundtable to offer you compelling courses from the history of science. This five-part online course features museum curator Roger Turner, who will share stories of instruments that have led scientific research in unexpected directions.
Course Overview
When you can measure something, you can change it. This course explores innovation through the history of scientific instruments. Each session highlights two instruments, exploring how they are connected to Nobel Prizes and national defense, racism, and environmental protection. We'll meet a fascinating cast of activists, scientists, engineers, and doctors. Learn how measurements have changed the world in a course full of humor and surprising historical images.
How does science develop? When we think of innovation in science, we usually think of changing ideas. But instruments have changed how scientists think, what we can use science to accomplish, and how we relate to the environment.
This course follows some of science's most colorful characters to see how instruments work. Some techniques, like x-ray crystallography, emerged in physics but transformed biochemistry by revealing the structure of key molecules like DNA and penicillin, even though the cameras were made out of used tin cans. We'll see how patterns of social inclusion and exclusion shape innovation as we learn about the tradition of women crystallographers including Dorothy Crowfoot Hodgkin and Rosalind Franklin. The histories of two medical instruments tell a different story, as doctors use measurement to define and perpetuate racial inequality—sometimes purposefully, other times not.
Instruments can lead to huge breakthroughs. Masamichi Yamashita Frankensteined a mass spectrometer out of spare parts that gave "electrospray wings to molecular elephants," though Yamashita's boss John Fenn got the Nobel Prize. In classic examples of tinkering and invention, two instruments that led to dramatic changes in environmental law emerged from the most unlikely sources, though innovative measurement was only one small but important step in actually reducing pollution. Each session draws together surprising pictures, compelling oral history, and tight storytelling to discover how the ability to detect and measure has changed the world.
Sessions
Session 1: A Revolution in Science?
November 14, 2023
During the 20th century, new kinds of instruments transformed how scientists saw the world, while other advances in the technology of measurement enabled new products and intensified production. The history of x-ray crystallography and pH meters suggest how scientific innovation intersects with commerce, medicine, and national defense.
Session 2: Instruments, Labor, and the Nobel Prize
November 21, 2023
The history of two biochemistry instruments reveals a stark contrast between the workers behind prize-worthy research, and the individuals who get the credit.
Session 3: From NMR to MRI
November 28, 2023
A baby clam, a coconut, and bitter recriminations over the Nobel Prize highlight the story of how an obscure device used for analytical chemistry became a familiar medical technology.
Session 4: Can Medical Instruments be Racist?
December 5, 2023
The histories of the spirometer and the pulse oximeter show two quite different ways that instruments have contributed to racial inequality. We'll meet the activists fighting the scientific practice of "race correction" invisibly built into spirometers, and explore why more accurate pulse oximeter designs were replaced by today's instruments that often misread the condition of patients with darker skin.
Session 5: Pollution: From Measurement to Action
December 12, 2023
Innovative scientific instruments have played a key, but easily overlooked role in environmental protection. The oxidant recorder was developed to measure chemical weapons during World War II, but transformed the politics of smog in Los Angeles during the 1950s. The electron capture detector emerged from research on reanimating frozen hamsters, but reshaped the world by detecting extremely low concentrations of insecticides and ozone-destroying molecules.
This is a live, virtual course hosted by Roundtable, which includes interactive opportunities and post-course recordings available for all course participants.
Cost
$150 for the course
Use promo code science15 for 15% off!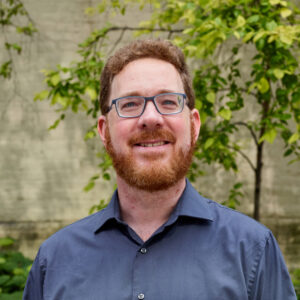 About Roger Turner
Roger Turner is a historian of science and museum curator. He studies how our daily lives are affected by the invisible work of nerds, especially in chemistry and environmental science. When he's not helping visitors understand how a stylish mid-century modern gas chromatograph measured water pollution, he writes for Distillations magazine and produces digital exhibits. He holds a PhD in the history and sociology of science from the University of Pennsylvania.
About Roundtable
Roundtable by the 92nd Street Y, New York, is an online learning platform featuring live courses and Q&A sessions with some of the greatest minds of our time: world-renowned historians and scholars, Pulitzer Prize-winning writers, political pundits, and acclaimed food and wine experts, among others. All courses include interactive opportunities with instructors.
---
Header image: "Move a step ahead in time with the new pHASAR I," advertisement for Beckman Instruments, 1973.
More events
In this course Roger Turner will show how the Nobel Prize can be an entry point for more inclusive stories about the people who work in science.
Historians and social scientists of science, technology, and medicine discuss their collaborative work to develop and deploy "embedded connections" in the humanities and STEM fields.
Join us for a night of "whodunits" and solve a historical forensics murder mystery.